Literacy is not just part of our English lessons. Reading, vocabulary, speaking, listening and writing are promoted across the curriculum. Students will develop their literacy skills in lessons, in form times and through extra-curricular opportunities. Every member of staff believes that literacy can change lives.
Our Bluecoat Aspley Literacy Vision:

​

At Bluecoat Aspley, we believe in each one of our students. We believe that striving for exceptional literacy standards empowers our students to become speakers, listeners, readers and writers who can fulfil their individual potential. ​

We want each student to have the communication skills and knowledge to give them choices and to claim their place within society. Therefore, we encourage discussion and debate as well as reading, and writing, for progress and for pleasure in every subject. We believe that by embedding literacy within each faculty, our students will recognise how these skills underpin our aspirational curriculum and their own opportunities. ​

The provision of literacy at Bluecoat enables students to understand the richness of human thought, their place within this narrative and with the skills to move it forwards. They will leave our Academy with an individual voice which demands to be heard; informed by their sensitive approach to reading and listening and expressed eloquently through their speech and writing.   Their knowledge of literacy will enable become advocates for themselves and for others without a voice.​

To facilitate our vision every member of our staff is a committed Literacy Champion who promotes high level oracy, reading and writing practice in their area of expertise, and as appropriate for the students they support.
The seven strands of literacy outlined in the EEF's Literacy in Secondary Schools guidance report (2019) underpin our approach to literacy. ​

The diagram below summarises the strategies that staff use across the Academy to support students' literacy. There is more information about some of these key strategies on the linked literacy pages.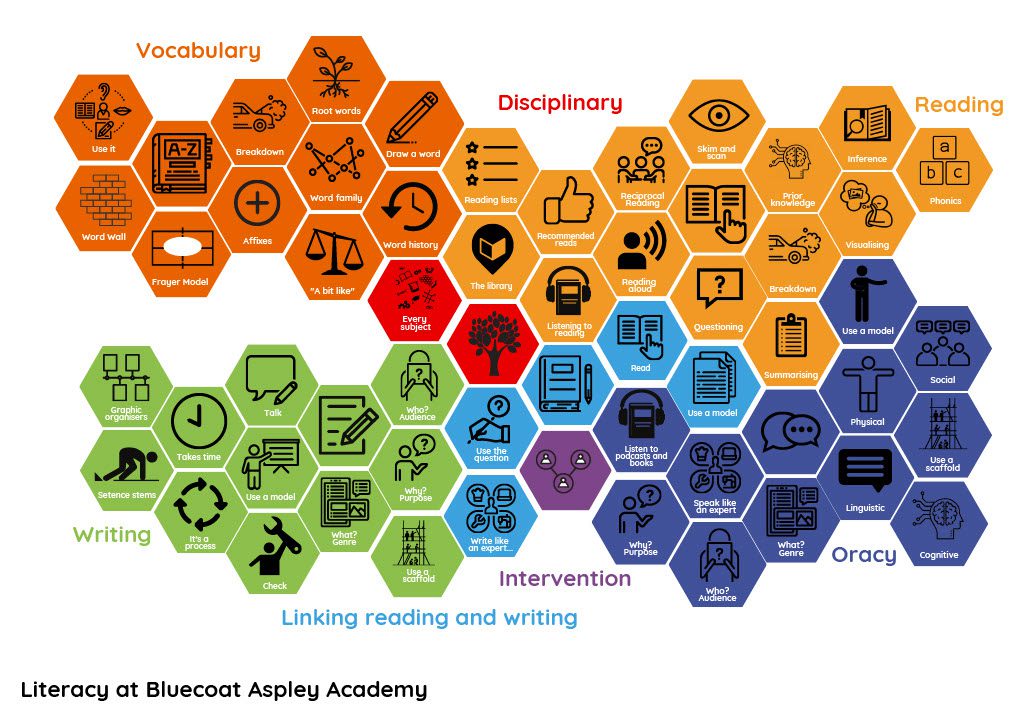 We also work alongside the National Literacy Trust, as part of their Literacy for Learning initiative. This enables us to access research, training and excellent opportunities to support our students, their families and our staff.
Supporting literacy at home:
For each of the literacy strands, we have summarised how we support students' literacy at the Academy.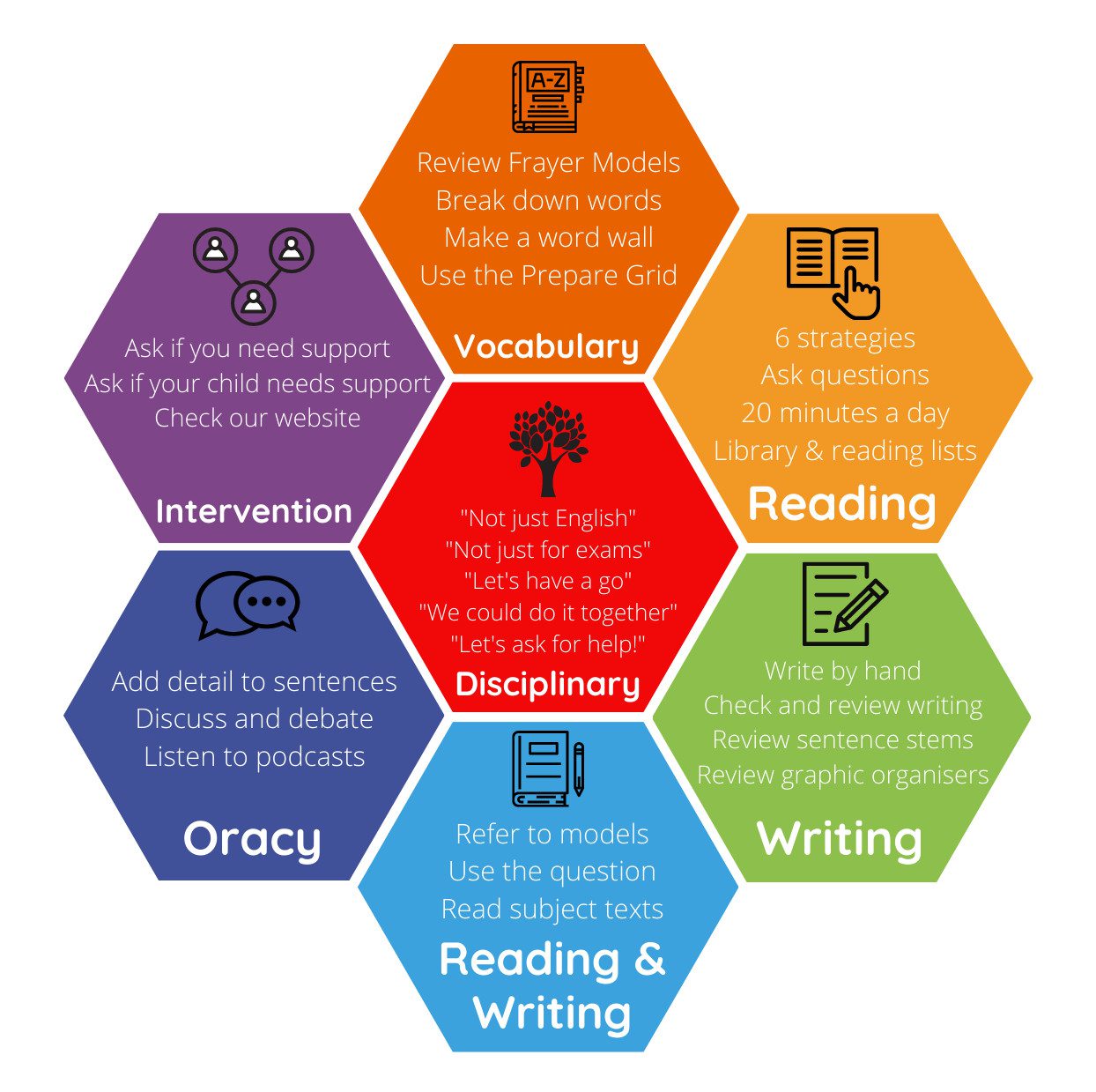 Some of these key home learning strategies are summarised on this diagram and are explored in more detail on the appropriate literacy page.
There are resources and links so you can see what we do and to help you to use similar strategies at home.
We've also included other ideas which will hopefully make our practice transparent and there are suggestions which could offer enrichment opportunities in particular areas.
Click on the relevant literacy strand and remember to look at our English as an Additional Language resources if appropriate.
If you have any questions, please contact us at baaliteracy@bluecoat.uk.com